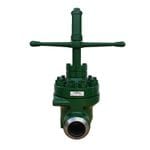 Demco Style Gate Valves 7500 PSI
Model: Demco Style Gate Valves 7,500psi
Sizes: 2" x 3",4" & 5" x 4"
Connections: Buttweld, NPT
Pressure: 7,500psi
Product Details:
MKP Gate Valves are engineered for the rigorous requirements of today's oilfield applications. The seats are designed for a complete, tight shut off after every closing cycle. Once closed, line pressure forces the gate up against the downstream port sealing it against the rubber seat. MKP supplies 7500 PSI Gate Valves modified from a DM Style 5000 PSI design. Both 5000 PSI and 7500 PSI Gate Valves meet and/or exceed the severe pressure demands of deep well drilling.
Features:
Interchangeable with DEMCO® 5000 PSI mud gate valves.
In-Line field repairability. For internal parts inspection, or routine maintenance, the bonnet assembly can be quickly removed from the valve body. Parts are replaced as needed, the bonnet assembly re-installed, and the valve is tested and returned to service.
Open and close with ease. Double acting threads and rising stem design mean that opening and closing the gate happens quickly, and with minimal effort to rotate the handle assembly.
Sight lens included on larger sizes. Allows viewing of the stem for determination of gate position, while also protecting the stem from dust and dirt.
Drop-Tight Sealing. Exclusive seat design provides drop-tight shut-off which is accomplished by metal to rubber sealing.
Bi-directional sealing design. The gate and stem are separate parts, which allows the slab style gate to move within the rubber seat in response to the direction and pressure of the drilling mud, or other media, flowing through the valve.
Extensive Quality Assurance verification and testing prior to shipment.
Connection Types:
Threaded End Connections This type of end connection, also referred to as screwed, is suitable for applications up to 7500 PSI. Line Pipe (LP) and Eight Round (8RD) threads are available.
Butt Weld End Connections This type of end connection is manufactured to match the pipe weld connection. The two bevelled ends are butted together and welded in place. Welded connections are best suited for applications where frequent removal from the pipeline is not required.